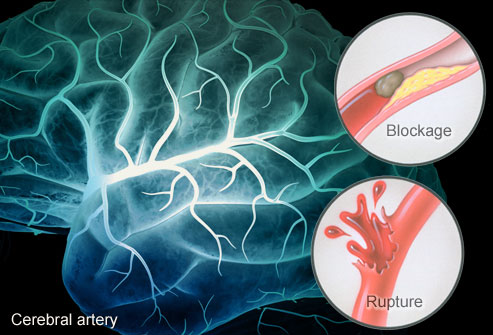 What is a Stroke?
A stroke is an interruption of the blood supply to any part of the brain because a blood vessel is blocked by a clot or burst open. A stroke is sometimes called a "brain attack."
What are the types of Stroke?
Stroke can be caused either by a clot obstructing the flow of blood to the brain (called an ischemic stroke) or by a blood vessel rupturing and preventing blood flow to the brain (called a hemorrhagic stroke). A TIA (transient ischemic attack), or "mini stroke", is caused by a temporary clot. (85% of strokes are "ischemic," caused by clots).
As a result, the affected area of the brain is unable to function, leading to inability to move one or more limbs on one side of the body, inability to understand or formulate speech, or an inability to see one side of the visual field.
A stroke is a medical emergency and can cause permanent neurological damage, complications, and lead to death. It is the leading cause of adult disability in the United States and Europe and it is the second leading cause of death worldwide.